Last Updated on Thursday, January 5, 2017
Please carefully read the following information when making your reservations as it explains how reservations are handled when received, confirmed and refunded in case of cancellations due to ships not arriving in port or inclement weather.
We think explanation of these terms will help you understand that these policies were made in order to be fair to all participants.
Any questions you may have prior to reserving your excursion may be sent to us by e-mail.
Jamaica Wheelchair Taxi will not assume responsibility for incorrect email addresses, dates, times, or any other incorrect information provided to us by the purchaser. All reservations for excursions are reserved "as is" at the times stated and on the dates requested by "Clients using" our website. We will not be held responsible for omissions stated by purchaser.
If you don't receive a reply or confirmation to submitted request(s) this may be due to an incorrect e-mail address(s) entered on our request/confirmation(s).
Jamaica Wheelchair Taxi will not be responsible for late arrival of the purchaser to the reserved excursion or loss of personal effects.
Jamaica Wheelchair Taxi will not be held responsible for death , injuries, loss of personal effects, or late arrivals of clients to the reserved excursion.
Jamaica Wheelchair Taxi will reply to the email address provided by purchaser on a secure reservation form after receiving an availability request from purchaser, provided there is availability. Excursion(s) availability sent from "users" of Jamaica Wheelchair Taxi website do not constitute a confirmed booking.
Availability request sent by users of Jamaica Wheelchair Taxi website must state number of persons (Adults & Children), dates, name of Ship and type of excursions.
A valid Credit Card is needed to confirm any reservation on our reservation system. Availability is communicated as current availability.
Your credit card will be processed automatically for the excursion deposit as soon as we receive it to guarantee and reserve your seating space. All reservations must be confirmed.
You will receive an e-mail confirmation from Jamaica Wheelchair Taxi within twenty-four (24) hours (unless noted otherwise).
Your confirmation states: Group leader's name, name of excursion, deposit paid for the excursion, number of passengers, amount due to operator at time of Excursion , relevant excursion information, detailed directions for pick up, contact information for representatives from Jamaica Wheelchair Taxi and request that you print a copy.
A printed confirmation sent by Jamaica Wheelchair Taxi MUST be presented to the Tour Operator(s) at the time of excursion.
Jamaica Wheelchair Taxi will honor cancellations given three days prior to your reservation. These must be submitted in writing by replying to the e-mail confirmation sent to purchaser(s) e-mail address. Any cancellations caused by "illness" at the time of Excursion will require a medical certificate from your Ship's Doctor and can be presented at the time of excursion by group member(s) or faxed to our office in which case you will not be charged full excursion charges.
Deposits are kept on credit up to one year and may be used for a future reservation.
Deposits are refundable under the following conditions:
Cruise Ship cannot come into the Ports of Ocho Rios, Falmouth or Montego Bay due to inclement weather
The operator cancels the Excursion or if the Excursion cannot take place due to inclement weather.
The operator(s) of the Excursion reserves the right to determine when cancellation of an Excursion is necessary. If the excursion is cancelled by the Tour Operator or due to inclement weather, you will receive a cancellation advice from Jamaica Wheelchair Taxi and you must respond within ten days to obtain full deposit refund.
The refund will be credited to the Credit Card used to reserve the Excursion.
Please Note!!

Cancellations of excursions by Cruise liners do not necessarily mean that our Excursions of the same type are cancelled. After disembarkation, proceed to the meeting area at the Port and our guides will advise you if the Tour Operator has cancelled. If your Ship arrives early or late, all passengers must make their way to the meeting area irrespective of the time stated in the reservation or call the Jamaica Wheelchair Taxi Representative at the contact numbers provided in your confirmation.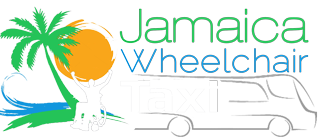 Our Services
We are Jamaica's best provider of transportation for visitors with limited mobility, special needs/disabled and provider of wheelchair access/handicap vehicles for excursions and Airport Transfers.